Erbele, Evelyn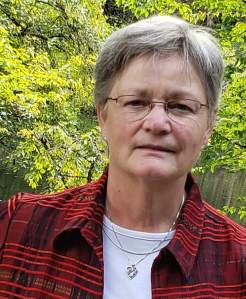 Serving At: Mission Advocate for the Western Jurisdiction
Home Country: United States of America, North America
WAYS TO REACH ME:
This missionary has completed service. The Advance Number will remain active until December 31, 2021.
The Rev. Evelyn Erbele is a missionary with the General Board of Global Ministries of The United Methodist Church currently assigned as Mission Advocate for the Western Jurisdiction. She and her husband, Terence Erbele, are serving as Mission Advocates in the Western Jurisdiction of the United Methodist Church.
Mission advocates are missionaries assigned to assist annual conferences, districts, and local churches in the United States to understand and participate in global mission. Their work has a particular focus on mission personnel, including support of missionaries through the Advance for Christ and His Church.
Her most recent previous assignment (2008-2018) was as co-pastor and community developer for the church's Day Shelter and Overnight Warming Center through the congregation's Downtown Ministries, which is a denominational mission Advance.
Ketchikan is located on an island within the Tongass National Forest. It is a region of unusually heavy rainfall, a factor, along with the geographical isolation, that compounds the hardships of unemployed and low-income residents. Downtown Ministries includes providing facilities for a day and night shelter related to First City Homeless Services (FCHS), a local nonprofit organization that serves the needs of Ketchikan's homeless, marginally housed, and transient community. The shelter is located in the social hall of First United Methodist Church.
Many of the persons served by the shelter have mental and physical conditions and made life choices that have contributed to their being homeless. People ask whether funds are well used in serving the same families and individuals again and again. Evelyn says she finds it difficult to put a dollar value on people. "How do you say no to someone that has no place to go? This is Ketchikan – it rain and it is cold. Families, men, and women are in the day shelter every day. Where would they be if it were not here?"
"Homelessness has many faces," she explains. "When I first began working with FCHS in 2008, I would look at an individual and say to myself, 'If this were my father, mother, brother, or sister what would I do for them?' And then one day I heard Christ say, 'Evelyn, these are your father, mother brother, and sister.'"
The Erbeles began their missionary careers in Jos, Nigeria where they lived with their two children from 1989 – 1995. Evelyn managed a health and dental clinic for students and staff of the Hillcrest School community in Jos, Nigeria.
Their next assignment was from 1996 to 2006 in Moscow, Russia, where she helped to develop programs to introduce and educate post-soviet adults to the Christian faith and the United Methodist Church.
From 1999 until June of 2007, Evelyn traveled in Lithuania and Latvia to foster adult education courses. She was pastor of the Eiguliai United Methodist Church in Kaunas, Lithuania from 2005 to 2007. Organized in 1999, this congregation had a particular focus on at-risk children. It started an afterschool program and, later, initiated a food-sharing ministry for shut-ins and older persons.
Evelyn wrote and published a study book in both the Russian and Lithuanian languages entitled, A Biblical Understanding of the Christian Faith and Church Membership through the United Methodist Church.
An elder in the Oregon-Idaho Annual Conference, Rev. Erbele holds a Doctor of Ministry degree from Wesley Seminary, Washington, DC.
Email Me