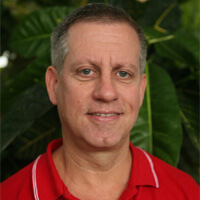 Serving At: Evangelical Methodist Church
Home Country: United States of America, North America
WAYS TO REACH ME:
Reverend Rhett Thompson is a Board of Global Ministries United Methodist missionary assigned to the Republic of Panama, serving as pastor of an Evangelical Methodist Church in Panama City.
In addition to his pastoral duties, Rev. Thompson has coordinated efforts of the church to strengthen its outreach into the surrounding low-income neighborhood through a day-care program and other projects. Rhett also serves as the National Coordinator of Volunteers in Mission Program in Panama, helping mission teams from the UMC in the selection of projects as well as with all of the logistical details involved. Projects include construction and medical services.
In recent years Rhett has been involved in the development of a comprehensive rural health project which serves the Ngobe indians, who are the poorest of the poor in Panama. This project includes the provision of potable water, adult literacy classes, community organization, and pre-school education for the Ngobe children.
Rhett also participates in the Camping Ministry Team which is developing a camping ministry that emphasizes making disciples through small groups. The team is designing and directing the construction of a new camp ideally suited for that ministry.
Prior to his Latin American assignment, Rhett was a youth minister at Bright Star United Methodist Church in Douglasville, Georgia. He has been active in social service, environmental conservation, and peace and justice work.
A native of Florence, Alabama, Rev. Thompson grew up in the Canterbury United Methodist Church, Birmingham, Alabama. He is a graduate of Davidson College in Davidson, North Carolina, and holds a Master of Divinity degree from Candler School of Theology at Emory University, Atlanta, Georgia. In 2000 he earned a Masters in Family Counseling from the Catholic University of Panama.