Love Beyond Borders: The Interfaith Movement to End the Pandemic
DONATE NOW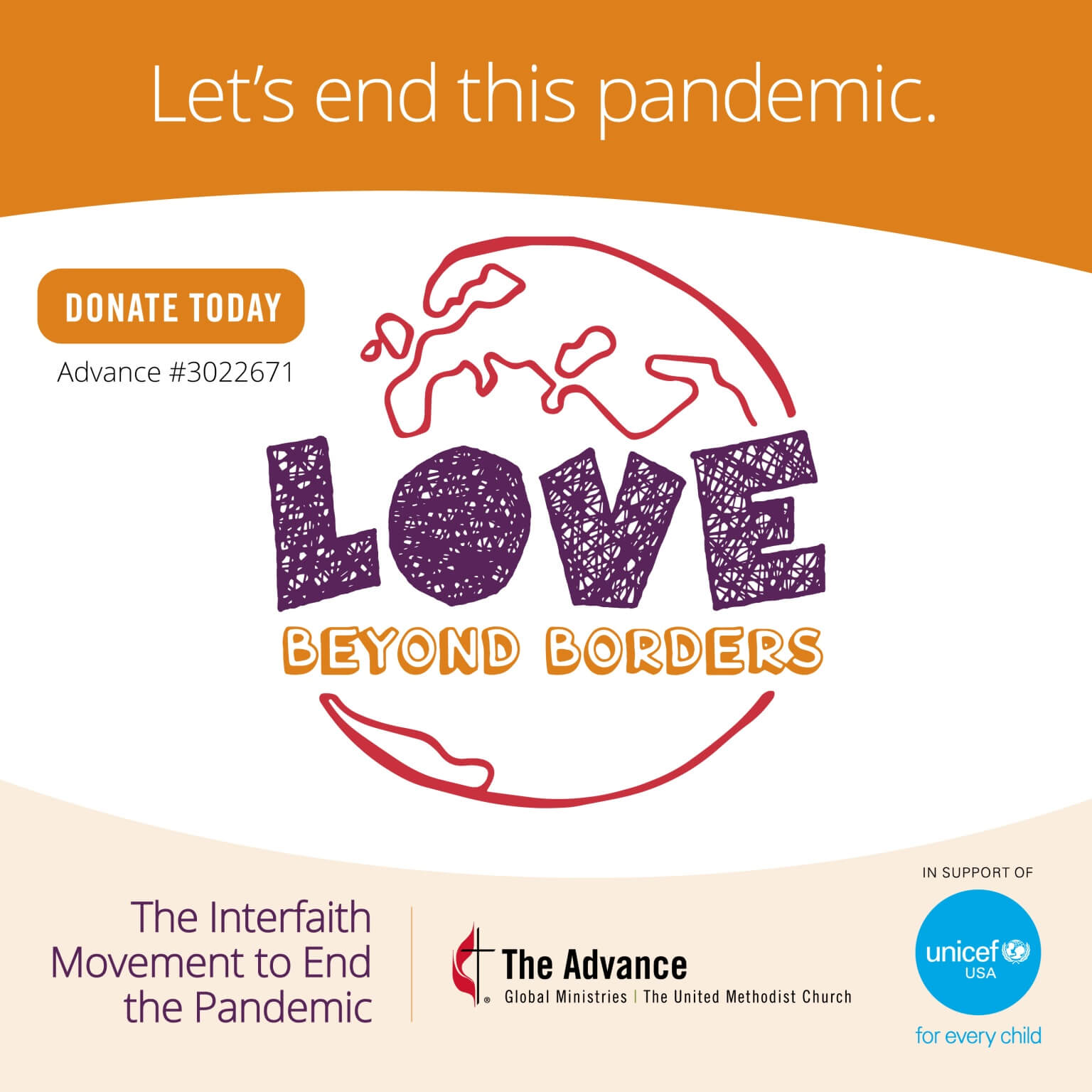 Project Information
UUSA & UMCOR Video from Global Ministries on Vimeo.
First United Methodist Church, Boise, ID seeks to engage The United Methodist Church and interfaith communities to come together through Love Beyond Borders to help the most vulnerable communities have equitable access to COVID-19 vaccines. 
The pandemic is not over until it is over everywhere. While some countries have had access to multiple vaccines and booster shots, others have had little or no access. Mutations of the virus continue to pose a threat to the entire world. Further, it is clear that there are consequences from the virus that will have long-term impact, especially for the poor and vulnerable. Children will suffer long-term developmental impacts, poverty has increased and multiple long-term health issues are becoming apparent.
The Love Beyond Borders Advance supports the larger national campaign of The Interfaith Movement to End the Pandemic led by UNICEF USA. Funds raised by Love Beyond Borders go to UNICEF who, along with GAVI, the global vaccine alliance, are ensuring the equitable distribution of 4.1 billion COVID-19 vaccine doses worldwide.
Describe the need affecting community
The immediate need is to save lives and preserve health through COVID-19 vaccinations. The inequity in the distribution and access to COVID-19 vaccines remains significant and means a significant delay for most people seeking to be vaccinated. That delay has broad consequences for health, child development and community development. Countries in Africa are particularly impacted. For example, Burundi just recently began its vaccine rollout and has a vaccination rate of approximately less than 0.1%. Other countries such as Botswana, Namibia, Lesotho, Eswatini and South Africa are seeing another devastating wave of cases impacting their communities, due to the rapid transmission of the Omicron variant.
The global COVID-19 pandemic is overstretching health systems and exacerbating inequities within countries and across regions. 90% of countries, for example, have experienced a disruption in their ability to provide crucial health care services, leaving millions at risk of illness and death.
How will this Advance project help to address the need?
The COVID-19 pandemic won't be over until it's over for everyone. That's why contributions to the Love Beyond Borders campaign will go toward ensuring that in 2022, 4.1 billion vaccines will be equitably distributed across more than 180 countries in the hope of getting roughly 70% of the world vaccinated. Support from Love Beyond Borders will also help UNICEF strengthen the health systems needed to deliver and administer the COVID vaccines.
Describe the primary goal of the project
The primary goal of the Love Beyond Borders campaign is to engage The United Methodist Church and other faith communities in ensuring the equitable distribution of the COVID-19 vaccine around the world.
Describe the change you would like to see in the community as a result of this Advance project
We hope to see changes in our own faith community as well as in communities of need around the world. In our own communities, we are working for greater awareness of the continuing need to create equitable vaccine access and a willingness to donate, participate and advocate toward that end. In communities of need, we are working for greater vaccine access and the health of all people.
Contact Information