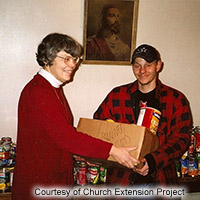 Project Information
Advocating ministries in rural churches & communities carried out by lay and clergy Rural Chaplains.
Describe the need affecting community
People are being taken advantage of in rural areas relative to: environment, community services, use of land, survival of small family farm, migrant workers, lack of public transportation, inadequate education, and health facilities, lack of employment. opportunities, and spiritual impoverishment, etc. Also, there is a need for advocates to interpret rural needs and concerns to the leadership at local, denominational, and ecumenical levels of the church.
How will this Advance project help to address the need?
Through the yearly focus events, the Rural Chaplains Association provides experiential and consequential learning opportunities for Rural Chaplains who stand with and advocate for all who struggle and are easily forgotten. Focus events are held in a setting fostering an experience of diversity, opportunity and challenge blended together. Rural Chaplains are "walking the talk" by going to settings in difficult and marginal places among people who feel they are among the forgotten telling the people we care.
Describe the primary goal of the project
The primary goal is to provide training and consequential learning experiences for leadership and personal development of Rural Chaplains residing all across the USA, and in Russia, England, and Canada who are: 1. Mainly serve in rural, isolated area or advocate for persons serving and living in rural communities; 2. Build relationships with rural families, churches, and communities facing issues such as economic, education, health, social, multi-cultural, and spiritual struggles. 3. Build partnerships within the communities where they live and serve in ministry.
Describe the change you would like to see in the community as a result of this Advance project
That the people of the rural church and community will maintain a sense of hope as they build on the strengths, and opportunities in the midst of the challenges and struggles. That as they preserve the values of their heritage/culture, they will gain a renewed vision of their role in an increasing changing environment. That justice and equality will be realized.
Contact Information
Global Ministries Contact
Dr. Judy C. Matheny
8287345242