Zoe Empowers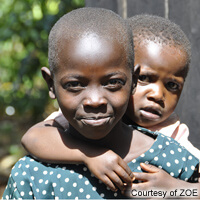 Project Information
Empowering vulnerable children to overcome poverty through a three-year empowerment program
Annual Goal: $750,000.00
Year to Date Gifts: $43,968.56
Describe the need affecting community
There are more than 100 million orphans and vulnerable children in the countries where ZOE serves, and many live in extreme poverty. Children who are socially and spiritually dislocated make easy targets for those who wish to do them harm, exposing them to sexual and labor exploitation, disease, starvation and sometimes death. Communities overwhelmed by orphans – because one or both parents have been lost to diseases, such as AIDs or Ebola, or to war and displacement – often find the situation difficult to remedy. This humanitarian crisis is well documented.
How will this Advance project help to address the need?
ZOE's three-year empowerment program assists children to move from extreme poverty to self-sufficiency. After graduating from ZOE's three-year empowerment program, children's opportunities to move to sustainable self-sufficiency increase, helping them to provide food, clothing, shelter, education, medical care, and social support for themselves and their siblings. Through ZOE's efforts, they may also come to know God's love and find hope for the future. ZOE's empowerment program for orphans and vulnerable children is comprehensive, addressing the many challenges that keep them in poverty. The program helps children to address and overcome the root causes of their poverty.
Describe the primary goal of the project
ZOE seeks to realize a glimpse of God's reign on earth by empowering the most vulnerable of God's children physically, psychologically and spiritually. After three years, children in the ZOE program acquire the means to become self-sufficient, realizing an upward trajectory that leads to better financial and social circumstances and giving them space and time to understand God's love for them. We have now been able to observe ZOE groups after they finish the program, and in almost every case, the groups continue meeting together and supporting one another even seven years later, continuing to support each other to realize their dreams. In addition, as soon as these children begin to stabilize their own lives, we see them bringing other orphans into their groups and replicating the empowerment process with more children.
Describe the change you would like to see in the community as a result of this Advance project
ZOE seeks to help children become contributing members of their communities. After children complete ZOE's program, we hope they will find places in their communities as young leaders, guiding others in spiritual, social and economic matters. We would like community members to accept these children as neighbors who have gifts and strengths to build the village's future.
Contact Information
Global Ministries Contact