Just Neighbors Ministry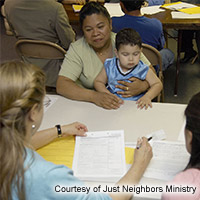 Project Information
Providing immigration legal services to low income immigrants and refugees in Northern VA
Describe the need affecting community
Just Neighbor is located in an area where approximately thirty percent of the population is born outside the United States. This constitutes to a large number of residents who need immigration legal assistance in order to become self-sufficient and thriving members of the community. However, many of these families cannot afford private attorneys. In fact, a 2014, report on poverty in Fairfax County shows that 50 percent of the people who live in poverty in our community are foreign born residents (31,729). When this low-income population has no recourse to affordable and reliable help, it 1) prevents them for applying for immigration benefits that would allow them to work and get out of poverty and/or 2) forces them to choose between paying for their legal status and basic needs of food and housing. Just Neighbors believes it is essential to address the root problem if this poverty which is the ability to work legally in the United States and become self-sufficient. Research around the country illustrates that an immigrant's legal status is the single and most potent barrier to socioeconomic mobility in the United States. Naturalized citizens have higher employment rates and are half as likely to live below the poverty line as noncitizens. When someone without proper immigration papers secures documentation, he also gains a 25 percent increase in income. Low-cost legal services for immigrants in Northern Virginia are limited, and many low-income immigrants are persuaded to pay large amounts of money for unnecessary paperwork or are over-charged for simple procedures. Some immigrants try to file immigration papers on their own and commit errors that create further complications. Many find it difficult to understand the requirements for obtaining legal status, and many cannot afford legal assistance. The immigration system within the Department of Homeland Security, with its procedural intricacies and processing errors, is incredibly difficult to navigate, even for the highly-educated, English-speaking immigrant. Low-income immigrants face the additional challenges of language, literacy, cultural barriers, and lack of education. In addition, some immigrants turn to low-cost notarios, which are people who claim to offer reliable legal assistance. These individuals are not trained in immigration law, provide incorrect legal advice, and can make serious, irreversible errors that have dire consequences. Without a reliable and trustworthy alternative for information and guidance, some individuals, who may be steps away from legalizing their immigration status, may instead face removal from the United States or years of waiting and uncertainty. In addition to the immediate need for immigration legal services, there is also the need for compassionate understanding about immigrants and refugees in our community. The community is often bombarded with images of refugees and immigrants in the news. Individuals don't have the opportunity to learn more about their neighbors. There are a lack of opportunities for many people to have positive encounters with their immigrant and refugee neighbors.
How will this Advance project help to address the need?
Just Neighbors will address this need by applying its 20 years of expertise in immigration legal services and volunteer management to help immigrants obtain legal status. Just Neighbors' staff attorneys supervise volunteers from the community as they assist low-income immigrants and refugees with their applications to the U.S. Citizenship and Immigration Services (USCIS). This volunteer model allows Just Neighbors to help more clients and provides positive encounters between immigrants and non-immigrants. Not only does this model allow Just Neighbors to offer high quality legal services but it also leads to deeper understanding and compassion by both community volunteers and immigrants.
Describe the primary goal of the project
The long-term impact of Just Neighbors Immigration Legal Services is that immigrants and refugees will be able to find and/or maintain stable employment in their communities. When family members gain employment authorizations or legal permanent residence, individuals are able to pool their resources together for the benefit of the entire family, greatly increasing their ability to thrive. Besides the affirmation of self-worth, long-term legal status gives individuals the needed income to pay for food, clothing and housing for themselves and their families. Their ability to work legally will increase their family income and bring stability as some will be able to purchase a home or secure more long-term housing options. For some clients, the impact will be that they will eventually become U.S. citizens. Studies show that naturalized citizens earn more than non-citizens, are less likely to be unemployed, and are better represented in highly skilled jobs. Not only does citizenship offer immigrants a sense of membership and participation in society, it also gives them access to many other tax and Social Security benefits. In the national capital area, many government jobs and private contractors require a security clearance, many of which require U.S. citizenship. Since these jobs generally provide stability and better wages, having access to them would benefit both the individual and the community.
Describe the change you would like to see in the community as a result of this Advance project
The changes that Just Neighbors would like to see as a result of offering immigration legal services is that immigrants in Northern Virginia will be welcomed into the community and take their places as self-sufficient, contributing members of their communities. By providing individuals and families with the tools to become more self-sufficient, immigration legal services enables low-income immigrants to become a fuller part of the community because they can work, become united with their families and escape from the restrictiveness and fear of a household with domestic violence.
Contact Information
Global Ministries Contact