Native American Ministries of the North Carolina Conference
DONATE NOW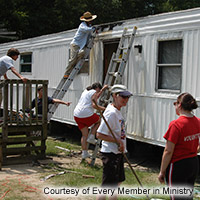 Project Information
Sharing resources with 13 Native American congregations for programming, evangelism and leadership
Describe the need affecting community
Spiritual needs in my opinion rank at the top of the list as in any other community. We have many people that have not attended church in many years. Some have never attended even a funeral or wedding. Many people never find Christ until they are aged out and never have the opportunity to know Christ in a servant role. This region is negatively impacted by high unemployment since the textile industry left the region more than a decade ago. When the Hospital, University and prison are the high employers the community has a problem. The health of our people is just terrible making emergency room a necessary place to receive help. Heart conditions and diabetes continue to be the killers in this region and access to affordable care is still a problem. Industries just shut their doors and left the region and those buildings remain closed today. This causes hopelessness among our people which leads to a variety of illnesses including mental and emotional. Many of the families I work with have no health care and over a period of time they give up so they look for ways to receive a disability check. While having a University in our back yard, most college aged young people leave the community for college education and never return to the community as full time residents so our financial base is negatively affected by this. Housing in this community is a real issue. There are pockets of wealth that amaze me, and pockets of poverty almost next door that shock me. This is where I do most of my work in trying to help the very poor of our region.
How will this Advance project help to address the need?
We will continue the process outlined above and utilize the services of the tribe that we are able to leverage. We have begun to utilize the services of the local hospital. We have visits by the mobile screening unit in several of our churches for the community. This process has identified several at risk people that have been able to receive assistance with their illness. We will continue to explore "Call" to ministry utilizing our Conference Multicultural Ministries team. We did that this past weekend and it was a big success. Since we were part of the design team for this event we were able to place many persons in the program. We plan to repeat this process again next year. We continue to plan for food pantries in our community and to partner with existing programs that offer assistance to the poor; (Sacred Pathway and Robeson County Church and Community Center are just two of them we partner with). I will continue with the mission outreach that provides home repairs and some renovation. This is crucial to our community and especially to the elderly. The Substance Abuse program will continue to reach out to those bound by addictions. Our dream is to establish a satellite program from this one in another community.
Describe the primary goal of the project
1. To grow the Native American churches beyond their present numbers for the purpose of making Disciples of Jesus Christ to transform this part of the world. 2. To train Disciples for ministry beyond the walls of the local church. 3. To help people, especially younger ones experience God's Call to work beyond the walls of their local church in both lay and clergy roles. 4. To develop a sustainable structure of leadership that will bring stability and strength to these churches and make them ministry stations not just for the church but for the entire community.
Describe the change you would like to see in the community as a result of this Advance project
The churches and leaders must reach out to the community to address the needs of the poor, hungry, homeless, addicted and lost.
Contact Information
Global Ministries Contact