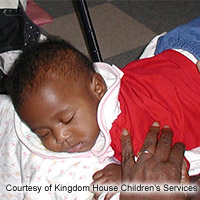 Project Information
Preventing abuse and neglect, and providing child care and other health and social services
Annual Goal: $55,000.00
Year to Date Gifts: $50.00
Describe the need affecting community
Among the many needs affecting our community is the need for safe, affordable day care for infants and toddlers. As well as respite care to prevent abuse and neglect among the children while parent/s work full or part time, go to school, or take training classes. In St. Louis each year, there are over 3,000 reports of abuse and neglect involving over 5,000 children. Susan Orr, Ph.D., Associate Commissioner Children's Bureau, U.S. Department of Health and Human Services report states that "parents and other caretakers who have resources and support are more likely to provide safe and healthy homes for their children. Specifically, parents need a network of supportive personal relationships and other resources for coping with stress, knowledge and understanding of critical child development issues, financial, and other concrete supports such as shelter, food, and childcare. A lack of these critical supports, on the other hand, can cause otherwise well-intention parents to make poor decisions that can lead to neglect or abuse. As we learn more about why child abuse and neglect occurs, more organizations, agencies, and tribal communities are recognizing the best way to promote prevention to provide parents with the skills and resources they need to understand and meet their children's emotional, physical, and developmental needs and protect their children from harm. Kingdom House Family Crisis Center seeks to reduce child abuse and neglect on the neighborhood level. Children of parents who are stressed economically and otherwise are at a greater risk of abuse and neglect. Families with limited (or no) support systems, regardless of their economic status, tend to take out their frustrations, fear and anger on other family members and frequently on small children. The neighborhoods that Kingdom House serves (zip codes 63104 and 63118) have the highest rates in the City of St. Louis for child abuse and neglect according to Vision for Children at Risk in 2010. More than 90% of these families have incomes at or below the Federal Poverty Guidelines, 90% are headed by single females and the unemployment rate is near 15%. We can then guide those who come to the Family Center toward our Infant-Toddler Center which is open 5 days per week and operates on a sliding scale fee.
How will this Advance project help to address the need?
The Goal of these programs is to prevent child abuse and neglect on a neighborhood level, by identifying and alleviating the individual and family problems that lead to or contribute to child abuse and neglect. Child care programs can be a refuge for children who are being abused or neglected at home. Providers can offer such children positive, safe experiences that also are developmentally appropriate. Just as child care providers helps with the social, emotional, cognitive, and physical development of children. They also can help maltreated children overcome fears, behavior problems, and other issues that may result from abuse or neglect. It is important that child care providers understand the kinds of developmental and emotional stress that maltreated children typically experience and learn what techniques are most effective for supporting these children. Activities include: providing free, short-term respite child care; providing one-on-one assessment of family needs as well as referrals to resources within and beyond Kingdom House. The Family Center forms partnerships with other neighborhood organizations and networks with city and county resources in our efforts to reduce abuse and neglect.
Describe the primary goal of the project
The primary goal of our Kingdom House Children's project is to provide a safe, nurturing, and educational environment for the children in our care and to provide a chance for a better future.
Describe the change you would like to see in the community as a result of this Advance project
We would like to see less abuse and neglect. We would like to see a reduction in poverty and less stress for those in poverty.
Contact Information
Global Ministries Contact
Scott E. Walker
3144210400