Gilbert Agricultural & Rural Development Center (GARD Center)
Country:
Antigua and Barbuda
DONATE NOW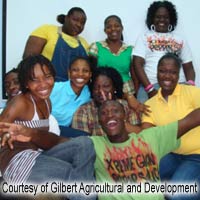 Project Information
Teaching vulnerable youth market-relevant skills so they can be economically competitive
Describe the need affecting community
Unemployment amongst youth in the nation between 20-25 years is 20%. This is a high rate, as for Antigua & Barbuda is the 59th highest youth unemployment rate of 129 countries. 21% of the youth between 15-24 years live in households below the poverty line $US 2,366 per annum. 22% have only primary school education. This is the face of the youth we are working, low self esteem, low literacy levels, and poor employ-ability. Set against this environment, young people in Antigua and Barbuda face many challenges and according to our National Youth Policy, the nation's youth have very little access to school-to-work transition programs, career and life planning training. On-the-job training opportunities, market-driven educational and skills training. In addition, and based on the CARICOM study the GARD Center's personal interviews, with employers and as corroborated by USAID Youth Workforce Assessment, the youth employees have poor reading, writing, comprehension and communications skills and work ethics. During the interviews, employers stated that they would rather accept a person with good work ethics and attitude and limited technical skills than someone with just technical skills. The GARD Center is filling a serious gap that exists with those who are out of school and have little to get jobs or in some cases funds to further their education. The GARD Center provides a wide variety of market led technical vocational training courses and entrepreneurial training with cross-cutting sessions in IT, remedial math and English and life skills with spiritual development. As the impact of the global economic crisis still continues to be felt, the vulnerable segments of society, which includes young people, will continue to be most affected, and will see their socio-economic situation deteriorate. It is within this context that the GARD Center and its partners, are supporting youth-at-risk in becoming more marketable and competitive for this global world of work.
How will this Advance project help to address the need?
The Center provides skills training in market led vocations that are researched and found to be in demand by the various sectors. Training the youth to be employable and productive citizens. With a holistic short term courses, and services will meet the needs of many youth at risk. Who otherwise would have been out in the streets involved in criminal activities, and other unproductive activities. Internships and job placements services will be provided. For those who are interested in setting up their own businesses, entrepreneurship will be offered along with business development services that provides a business mentor, revolving loan fund, assistance with business planning and other related services.
Describe the primary goal of the project
To increase the employability of youth between the ages of 17 to 35 years in Antigua and Barbuda.
Describe the change you would like to see in the community as a result of this Advance project
Our Center through its holistic training programs is creating a core of employable young people with marketable skills and good work ethics. As a result, the private sector will have access to quality employees who can be further trained for higher positions in the companies. There will also be young people entering private sector as entrepreneurs adding to the success of the small business community and its services to the Nation.
Contact Information
Global Ministries Contact