Kivu Minority Evangelism
Kivu Minority Evangelism
Country:
Congo, (Democratic Republic)
DONATE NOW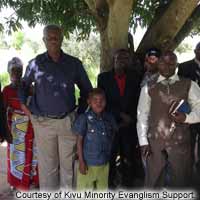 Project Information
Consolidating evangelism within Banyamulenge, Barundi, and Bavira minorities in South Kivu.
Describe the need affecting community
Rwandan and Burundian ethnic populations living in South Kivu is involved in more isolated circumstances than the majority tribes. This situation separates these ethnic groups from organized church activities led by other communities. Concurrently, the feeling of marginalization leads these communities into a perpetual climate of inter-ethnic tensions. This project targets the evangelization of minority communities in Kivu. In the view of promoting spiritual development and peaceful cohabitation in this part of Kivu. The United Methodist Church, with its vocation to transform the world, will help to improve social relationships between minority ethnicities, and the rest of the community.
How will this Advance project help to address the need?
Make contact with each community's leaders. Research the administrative documents needed to facilitate the movement, and the establishment of the churches among the minority communities. Implement logistical support services.
Describe the primary goal of the project
Promote evangelism and peaceful coexistence within the minority population in South Kivu.
Describe the change you would like to see in the community as a result of this Advance project
Promoting spiritual development, and peaceful cohabitation in this part of Kivu between the minority community and others.
Contact Information
Global Ministries Contact