Pastoral Support within the Evangelical Methodist Church in El Salvado
DONATE NOW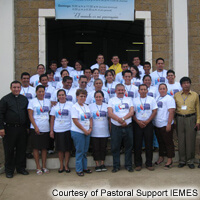 Project Information
Providing regular salaries for pastors
Annual Goal: $30,000.00
Year to Date Gifts: $3,573.00
Describe the need affecting community
Our country is suffering from the gang problem that has been generated by the needs that families in low-income communities. And one of the greatest needs that today are communities is to receive a message of hope in the midst of that situation that overwhelms.
How will this Advance project help to address the need?
This project is of great importance, since pastoralists are people who have a commitment with God and with people in the communities they visit. They give their time and resources to those communities every day.
Describe the primary goal of the project
Provide a salary for every pastor of our churches.
Describe the change you would like to see in the community as a result of this Advance project
A community given to Christ and to his service, people who may have an excellent relationship with God and his neighbour; and so to placate the forces of violence in our country.
Contact Information