Kamina Methodist University
Kamina Methodist University
Country:
Congo, (Democratic Republic)
DONATE NOW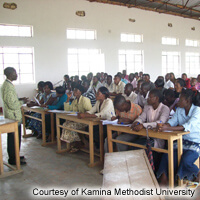 Project Information
Providing education in a post conflict setting.
Describe the need affecting community
Before creating the Kaimina Methodist University in 2006, most young men and women from the North Katanga could not afford university education, because of the poverty of their families, and the cost of relocating to public universities in the big cities. With the several conflicts and civil wars which erupted in North Katanga, many of these youth were forced to join militia groups. On top of this, most parents, because of the limited financial resources, only sent boy-children to further education. Keeping the girls home for early marriage and household works.
How will this Advance project help to address the need?
The Kamina Methodist University provides the community with leaders able to bring changes or integrated development.
Describe the primary goal of the project
This project aims at educating young men and women for the transformation of the community. Kamina Methodist University through the education of young men and women joins the call by the United Methodist church of developing principled Christian leaders for the church and the world. Furthermore, by being located in a post-conflict setting, Kamina Methodist University advocates for peace and the eradication of poverty.
Contact Information
Global Ministries Contact