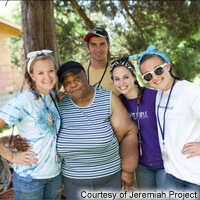 Project Information
Empowering middle school students and providing home repairs for God's people in need.
Describe the need affecting community
The Jeremiah Project is addressing the needs of both our homeowner/clients and the middle school students who attend the Jeremiah Project. The communities that we serve in Virginia and West Virginia have both physical and emotional needs. Many of our home owners are home bound due to the poor conditions of their homes combined with their own physical limitations. These homeowners are in many cases elderly or physically limited in their mobility and on fixed incomes. The other great need that effects our community is the spiritual and emotional needs of our middle school student campers. Many of the students attending the Jeremiah Project are on their first time ever mission trip or even their first time ever trip away from home. We meet these students where they are in their walks with Christ, many of whom are just at the beginning of their faith journey. We minister to these students so that church, God, and faith can become real and tangible to them, and so they can know God outside of their parents influence.
How will this Advance project help to address the need?
The Jeremiah Project will continue to address the needs of low income or fixed income families in Virginia and West Virginia. We also hope to continue to grow new ministry sites in neighboring states. We are allowing this process to grow organically and as God calls us out of our comfort zones. We will address these needs through prayerful and thoughtful consideration of where the greatest needs are. We have built a great reputation in the communities of Winchester, VA and Romney, WV. As we have become established ministry partners in these communities, we will remain as long as there is need. However, we will also continue to look forward to new opportunities to partner with new areas across Virginia and West Virginia. The Jeremiah Project will also continue to address the needs of our student leaders through our LEAD Four:Twelve Experience. These cohorts of student leaders will be mentored and coached through experienced clergy and youth leaders. Through mandatory attendance of retreats and summer work camps (over a year long period) LEAD students will grow in leadership and as they discern how God will use them in their communities and in our world.
Describe the primary goal of the project
The primary GOAL of the Jeremiah Project is to make homes warmer, drier and safer for those in need through middle school mission and ministry. Our long term impact is to continue in the communities we serve and to also plant and grow our work camps in new communities in need of support. Another important goal of the Jeremiah Project is to help students discover and develop their potential for leadership, grow in their understanding and application of their spiritual gifts, and to position themselves in ways so they can be used in greater measure by God in their local communities.
Describe the change you would like to see in the community as a result of this Advance project
The changes we would like to see in the communities we serve is greater support through the local church. We have been working to move our work camps into church settings, rather than full service retreat based camps — which are very costly. Through great effort by our Executive Director we are partnering with Macedonia UMC to host our students during two summer work camp weeks. We are excited to be moving to this new location but it has involved a great deal of coordination and support through the local church. We would like to see more of that as we continue to expand. We are hoping more churches will be willing to open their doors to camp weeks in their area.
Contact Information
Global Ministries Contact
Mr. Todd Freneaux
8665745744