Radio Ministry
Radio Ministry
Country:
Cote dIvoire (Ivory Coast)
DONATE NOW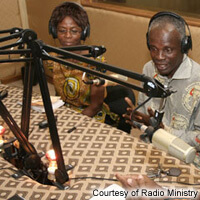 Project Information
Broadcasting radio ministry for evangelization and social development.
Describe the need affecting community
The community needs the proclamation of the Gospel in villages, camps and non-electrified areas. The promotion of church activities and visibility.
How will this Advance project help to address the need?
We plan to install transmitters in the most remote areas.
Describe the primary goal of the project
The main objective is to allow the voice of hope to be heard throughout Côte d'Ivoire, and beyond in countries with large Islamic population such as Mali, Guinea, Senegal, Burkina Faso.
Describe the change you would like to see in the community as a result of this Advance project
Changes: a better knowledge of the United Methodist Church, a better knowledge of the Methodist doctrine, encourage new members to the church, transform men by proclaiming the gospel, make better known the Conference of the United Methodist Church Ivory Coast.
Contact Information
Global Ministries Contact