Downtown Ministries, First United Methodist Church
DONATE NOW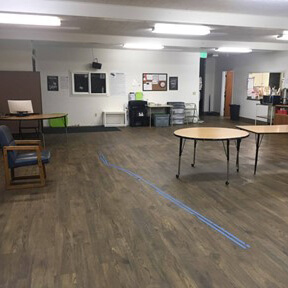 Project Information
Providing a daytime shelter, overnight warming center for 4 to 6 months per year, food, showers and services for the homeless.
Describe the need affecting community
The Downtown Ministries through the First City Homeless Services – Day Shelter directly impacts those who face homelessness in our community. There is a rising number of individuals and families in need of shelter and food. We offer both. The Overnight Warming Center provides a warm and safe place for clients to spend the night during the coldest months of the year.
How will this Advance project help to address the need?
The Day Shelter is the only place in our community that offers day shelter for people who otherwise would be on the streets. It is the only place offering showers, clothing and hygiene care for those without facilities. The Overnight Warming Center is the only local facility that will accept clients who are inebriated or facing drug-related difficulties. This is of benefit both to the clients, the local emergency responders, and the hospital emergency room.
Describe the primary goal of the project
We offer the homeless access to a safe non-judgmental shelter and referrals to local resources. Offering people shelter reduces death, illness, and interactions with the police.
Describe the change you would like to see in the community as a result of this Advance project
A 24 hour shelter and place for hungry people to get a meal. A wet-house.
Contact Information
Global Ministries Contact