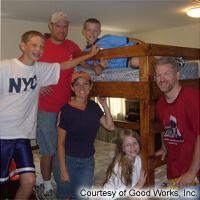 Project Information
Connecting people from all walks of life with the poor so the Kingdom of God can be experienced.
Describe the need affecting community
Our community has three kinds of needs. First, Athens County, Ohio is an impoverished county, with over 30% of our community under the poverty line year after year. So the needs of the Athens community stem from that poverty–needs for shelter for people without homes and for food. Older people in our community who live in substandard housing have needs for repairs and maintenance in their homes. Everyone who lives in a rural area needs access to some form of reliable transportation. People in poverty in our community have a need for bridges in their lives–a need to be able to connect with people who have stability and are willing to invest time and energy into relationships with them. Second, the body of Christ has a need to love God and love the vulnerable people who God loves. We have a need to put our faith into action through engaging in relationships with people that cross socioeconomic lines and communicate the love of God not just with words, but with acts of service. Finally, people who do not identify themselves as believers in Jesus also have a need to participate in the good things that God accomplishes when we love our neighbors. Their motivation might be to fulfill their responsibilities as good citizens, or they may need to complete service hours for a class, or maybe they have a different belief system that involves service. Well rounded people of all sorts experience the need to reach outside of themselves and serve others.
How will this Advance project help to address the need?
Good Works exists to connect people from all walks of life with people in poverty so that the kingdom of God can be experienced. Our mission is our project. Inside the Timothy House, we will offer shelter to people without homes and facilitate opportunities for people who are not necessarily believers to volunteer their time with people in that setting. For believers, we will maintain our weekend volunteer opportunity, in which we train people from local congregations to run shifts at the Timothy House. We also do trainings twice a year with this group of people that include equipping them with a theology of service. We will continue to facilitate opportunities for church groups to do work retreats with us, in which they mobilize as a short-term mission team for a day, a weekend or a week. We will have daily devotionals with them in the morning that involve time in scripture together talking about justice, mercy, the life of Jesus and God's love and concern for people in poverty. And we will send these groups out on supervised teams to do home repair and maintenance projects at the homes of older and disabled people in our community. We will continue to create opportunities for groups from all walks of life to sponsor our community meal, Friday Night Life. In that context groups share a family style eating experience with people from all sorts of socioeconomic backgrounds, in which people who are there to receive a meal are also invited to give back and invited into the tasks that must happen to make this weekly event work. For example, recipients of meals at Friday Night Life also bag up leftover food from the meal and donated food to provide take home bags to 35-45 families each week. The sponsoring groups receive briefing and instruction from Good Works staff and then also have a debriefing session to process their experiences. The content of these sessions depends on the background of the group. Finally, we will continue to provide local people in poverty the opportunity to volunteer with us and by doing so, earn transportation of their own through the Transformation Station. Non-emergency food, bicycles and appliances are also available through this program. These volunteers are part of the same service projects that work retreat groups work on during their visit. They contribute to our overall care for others in this way. While they come to us because they have a need, our hope is that they leave us knowing that they are capable and that they have much to offer. Our values of mutuality and reciprocity are present in all these initiatives. As is our desire that we would earn the right to speak about our faith through having integrity in our actions.
Describe the primary goal of the project
Our goal is the experience of the Kingdom of God. We desire, as Jesus does, to bring good news to the poor. In the long term, we desire to build bridges between Christians and non Christians from different socioeconomic backgrounds and people in poverty. For the people in poverty to whom we are reaching out, we desire that their felt needs for shelter, food, transportation and companionship would be met, and that by doing this, we could communicate clearly that they are loved by God and important to us. We desire that the people we are reaching out to could discover that they are also capable of contributing–that they have gifts and skills to share. For the Body of Christ, we desire that Good Works would be a place where the need to express our love for God by loving our neighbors as ourselves can come to fruition, where, indeed, we would put our faith into praxis. We desire to expand the church's definition of worship, so that it includes service to others. We hope to raise up the importance of service to people in poverty to the church, and communicate that serving the poor is a starting place, but there is more–we can not only serve, but also know and love people who are poor, and deliberately incorporate them into the life of the body of Christ. Our goal for people who are not believers is that they would also be able to love their neighbors through Good Works. While this group of people comes to us with various motivations, we desire to also have opportunities to connect with these volunteers about our faith.
Describe the change you would like to see in the community as a result of this Advance project
We would like to see greater interaction between people with resources and people who lack material resources. We believe that when people form relationships across socioeconomic boundaries, both sides are enriched. People in need experience hope and healthy relationships. People with means deepen their sense of generosity, empathy, and compassion. We would like to see people in poverty defined by the love of God, and not by the problems facing them at any given time. We would like for them to experience the empowerment of knowing that they are capable of engaging in the process of change in their own life. We would like for them to believe that they are important.
Contact Information
Global Ministries Contact
Keith Wasserman
740-594-3339