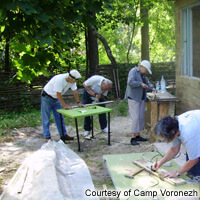 Project Information
Improving the facilities of a camp which hosts annual events for women and children.
Describe the need affecting community
The Camp Crystal is the only UMC facility in the country that provides the safe space for the UMC They operated social and outreach programs in the country where our church represents the minority. These programs included the camps, retreats and other events to the socially unprotected categories of the community, women, children, youth, families with the members with special needs, dependent and co-dependent people. The Camp's infrastructure is very old and almost unsuitable for operation, and the UMC and the Camp itself lack the proper finances, needed for the capital renovation of the facility.
How will this Advance project help to address the need?
The financial support will help us to finish the camp renovation to improve the safety of our facilities and their becoming of high sanitarian standards. Which will let us improve and broaden the social and outreach programs for the target groups of people we serve.
Describe the primary goal of the project
To renovate the camp buildings and its infrastructure in order to provide proper accommodations for program participants.
Describe the change you would like to see in the community as a result of this Advance project
The roof tile replacement we will eradicated, the constant seasonal leaking of the roof top. The process of cooking and feeding of the program participants will meet the sanitarian regulations. The autonomous heating of the main building will be possible to conduct our programs not only during the summer time but in the other seasons as well. All of it will improve the quality of the programs we do for our target audience stated above.
Contact Information
Global Ministries Contact
The UMC, Russia Mission Initiative
7(8442)972430