Ilula Orphan Program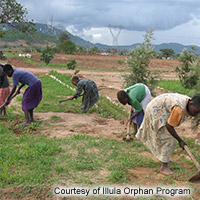 Project Information
Providing education and care for HIV-AIDS orphans, providing AIDS testing for the community.
Describe the need affecting community
HIV-AIDS is an on-going problem in the Ilula – Iringa impoverished area. Education and care is an ongoing need. Gender inequality is a problem in the Developing World and is no exception in Ilula. Sustainable agricultural education and development to defeat hunger and promote greater harvesting market income.
How will this Advance project help to address the need?
Continuing to provide HIV/AIDS testing and provide education and care for the orphans. We have completed construction of the Lord's Hill High School and are in process of constructing dormitories and an Examination Hall at present. Recently completed construction of the Holland House of Books Library and Solerud Kindergarten with an Elementary School and Pre-school planned for construction in the near future. Girls in the IOP education program continue education through High School, college, and/or university. Many orphans have returned as teachers and program directors at IOP. Gender inequality is being eradicated through education and leadership programs at IOP. The IOP Farm Program is developing Artemisia production, sorting, and packaging for the control of malaria, developing sustainable marketing products through the expansion of livestock, poultry, and bee keeping, in cooperation with university agricultural departments is testing and developing new agricultural procedures to defeat hunger and poverty in Ilula, Tanzania.
Describe the primary goal of the project
Provide education and care for HIV/AIDS orphans. Eradicate hunger, poverty, and disease. Gender equality and quality education for all.
Describe the change you would like to see in the community as a result of this Advance project
Quality education for all will defeat most of the problems in the Developing World.
Contact Information
Global Ministries Contact