Kinshasa Orphanage Reopening
Kinshasa Orphanage Reopening
Country:
Congo, (Democratic Republic)
DONATE NOW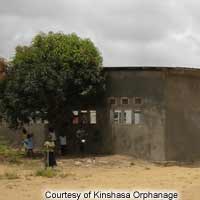 Project Information
Rebuilding an unoccupied building to reach orphans.
Describe the need affecting community
The surrounding community is very poor and there are many children and orphans needing care. Bethsaida U.M. Church has renovated a large room in this building complex as their worship and meeting area. Their vision is to renovate the additional buildings as an outreach to orphans and children. Orphans are currently being place in the homes of local church members. There is a desperate need for a place for other children and a place where all children can gather for support, training, and encouragement.
How will this Advance project help to address the need?
The renovation of the facilities will enable the local church to accomplish its vision to become a center for orphans and troubled children.
Describe the primary goal of the project
Provide a facility and program for orphan children through the renovation of existing buildings that are in very bad condition.
Describe the change you would like to see in the community as a result of this Advance project
Underserved children and orphans would have a place of welcome and restoration and families would be strengthen through this project.
Contact Information
Global Ministries Contact