Methodist Rehabilitation and Forest Development, Tumanding, Arakan
Methodist Rehabilitation and Forest Development, Tumanding, Arakan
DONATE NOW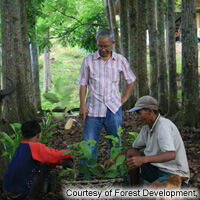 Project Information
Operating a woodwork cooperative to aid participants both materially and financially
Describe the need affecting community
The effect of climate change (El Nino) makes the area dry, and then occurs, becoming a fast and harsh reality to farmers. Farmers have low harvest yields and have difficulty meeting daily needs. Fortunately the project has a water source and the nursery is still watered.
How will this Advance project help to address the need?
Creating awareness on the effects of climate change and the effects of sustaining forest resources helps the current situation. By having a nursery and sustainable forest as a model for the community to take care of the ecosystem.
Describe the primary goal of the project
1. The goal is to establish MRFD as a show window for reforestation and a sustainable livelihood creating a community free from poverty. 2. Improve livelihoods and conserve biodiversity. 3. Help people to understand climate change and build resilience to its impacts within their own communities
Describe the change you would like to see in the community as a result of this Advance project
1. Create awareness on the issue of ecology and climate change among the community. 2. Create a spirit of cooperation among the constituents. 3. Improve the economic situation of the community by creating a sustainable livelihood program.
Contact Information