Ministerial Training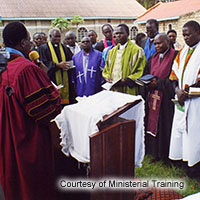 Project Information
Providing financial assistance for ten young aspiring ministers for theological training.
Describe the need affecting community
Due to widespread poverty in Kenya local MCK churches are unable to offer enough financial resources to subsidize the cost of theological education of aspiring church ministers. The young ministers themselves are then forced to bear most of the cost of education and many are not able to. For this reason many potential ministers never receive theological training and thus do not serve effectively in the ministry or they are unable to utilize the gift God blessed them with. Which some of them could be a big blessing to the church.
How will this Advance project help to address the need?
The project will continue to support the extremely needy young ministers who are called to preach the good news and to exploit their gifts from God through fundraising. And also, through encouraging them to start income generating programs for themselves to support half of their fees.
Describe the primary goal of the project
To guarantee at least one half of the cost of tuition for theological training for ten young aspiring to serve the MCK as full time local pastors.
Describe the change you would like to see in the community as a result of this Advance project
The community will be blessed through the use of young ministers, who will be able to use the acquired skills to assist the community to grow spiritually, socially, and economically. The local church will grow rapidly as a result of the use of young ministers, and the growth of the future churches.
Contact Information
Global Ministries Contact
Mr. Augustine Muema Musyimi
+254-20-272-4841