Lord's Mountain Orphanage (formerly Front Porch Orphanage of Zambezi)
Lord's Mountain Orphanage (formerly Front Porch Orphanage of Zambezi)
DONATE NOW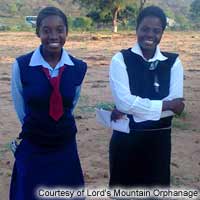 Project Information
Providing children with stability by meeting their needs physically, socially and spiritually
Describe the need affecting community
The Zambezi District is among the 7 districts of the North Western Province, which is one of the poorest provinces in Zambia. 72% of its population is categorized as poor with 51% extreme poor and 21% moderately poor. These figures are above national averages of 67% total poor, 46% extreme poor and 21% moderately poor (Living Conditions Monitoring Survey, Central Statistics Office – Zambia, 2003). The Zambia Demographic Health Survey (2007) estimated the rate of stunting in North Western Province among children aged between 3 and 59 months at 43% while 19% were underweight and 7.6% wasted. The national averages are placed at 48% stunting, 15% underweight and 5% wasting. The most affected group due to these high poverty levels are women and children. In the years 2000 to 2010 the AIDS situation was catastrophic in small township like Zambezi creating a growing number of orphans. In the Zambezi District, about 40% of the population are children and 29% of these, are orphans and vulnerable children as a result of HIV/AIDS. Out of this percentage, only 9% of them have access to basic social services like food, clothing, education, health and proper shelter. Orphaned children are affected by lack of access to basic education, food, health, clothing and shelter to ensure proper childhood development. They are involved in risky behavior, vagrancy, child labor, drug abuse and other in order to cope with their awkward situation. Their lack of spiritual guidance is the worst of it all.
How will this Advance project help to address the need?
The Lord's Mountain Orphanage is for the years addressing the need by: Taking care of the orphans in a comfortable home built for them. Bring them up in a spiritual manner. Providing education for them with all that is required at school. Provide clothes and feeding while at the orphanage. Provide skills training to all the orphans.
Describe the primary goal of the project
The primary goal of Lord's Mountain Orphanage is to rescue, protect and ensure proper physical, educational and spiritual development of the orphans.
Describe the change you would like to see in the community as a result of this Advance project
Improved attitude of the community toward orphans. Improved knowledge on rights of the children by the community. Change the negative perception of the community on the orphaned children, convincing them to believe that an orphan can fully contribute to the development of a nation if he or she is given the necessary care and support.
Contact Information