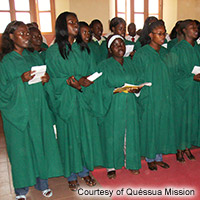 Project Information
Educating women in literacy, Christian teachings, hygiene, nutrition and entrepreneurial skills.
Describe the need affecting community
Illiteracy among the women, poor nutrition for their families, lack of basic hygiene and need to empower women on entrepreneurial skills.
How will this Advance project help to address the need?
More women will acquire literacy education skills for them to know how to read and write. Training on basic hygiene and on how to prepare clean nutritional diets for their families.Training on tailoring and dress making, catering training as income generating activities to economically empower women.
Describe the primary goal of the project
The primary aim the project is trying to achieve is to help more women know how read and write, economically empower more women through skills acquisition in order for them to fed for their families and support the work of the Church.
Describe the change you would like to see in the community as a result of this Advance project
More Women who can read and write, healthy families as a result of hygiene and nutritional skills acquired at the center. More economically empowered women as a result of entrepreneurial skills acquired at the Center. More involvement of Women in leadership and decision making both in the Church and community levels.
Contact Information