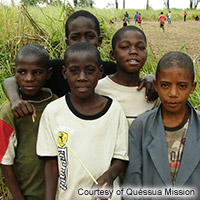 Project Information
Expanding the boarding facility to accommodate, guide, mentor and teach vocational skills to orphans.
Describe the need affecting community
Many children were orphaned during the Angolan Civil War, hence the need for a boarding facility for them, as they attend school and get guidance and mentorship in Quessua Mission school.
How will this Advance project help to address the need?
More Orphans will be accommodated into the facility, hence according them an opportunity to acquire education or vocational skills, for their well being, families and the entire society.
Describe the primary goal of the project
The primary aim the project is trying to achieve is to help more Orphans find a place they can call home, where they will be guided, counselled, mentored and get an opportunity to acquire either formal or informal education. Above all get to know Christ as the Lord and Savior. Skills acquired will enable them take up leadership position in the communities they hail from.
Describe the change you would like to see in the community as a result of this Advance project
Reduction of street children as many will be accommodated into the boarding house. More children will have access to education and vocational training because they will be offered a chance to study, mentor and acquire skills through vocational training. Less crime rate as these kids will be transformed to better citizens due to transformative guidance and counselling acquired at the boarding school.
Contact Information
Mr. Alcides Martins
(244) 251-23-00-63
Koome Ken