Amity Printing Press – Bibles and Christian Literature
DONATE NOW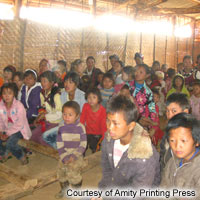 Project Information
Providing free ethnic minority language Bibles for ethnic minority Christians.
Describe the need affecting community
In the western of China, there are many ethnic minority Christians lives in the mountainous area, those parts of china are still very much undeveloped. Younger generation migrant to bigger cities to find job, the older people stay behind with their grandchildren or just by themselves. The local church is the very important spiritual supporting system for the villagers. But due to their economic situation, it is quite difficult for them to have their own bible to study at home. There are also many beautiful hymns in their own languages, but without hymn books some of those hymns will be difficult to pass on to the next generation.
How will this Advance project help to address the need?
Distribute free bibles and ethnic minority hymn books to poor ethnic minority Christians in the western part of china during the agriculture season (migrant workers normally come back to the village to help out the farming works).
Describe the primary goal of the project
To strengthen the Christian fellowship in those ethnic minority villages and protecting chinese ethnic minority chrisitan culture heritage.
Describe the change you would like to see in the community as a result of this Advance project
Those villagers will have more time and chances to study and share bible teaching in their community and by following the teaching of bible, the community spiritual supporting system will be stronger than ever. More and more younger generation could learn hymns in their own languages.
Contact Information
Global Ministries Contact