Slovakia In Mission Together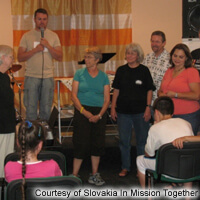 Project Information
Providing partnership programs for churches from the US to be connected with churches in Slovakia
Annual Goal: $5,000.00
Year to Date Gifts: $4,200.00
Describe the need affecting community
Slovak UMC churches are very small. The average attendance is about 600 people every week in the 11 congregations throughout the country. Even though the members are faithful in giving, the resources are scarce in most cases to be able to go out and do other ministry to serve the needy, apart from services, Bible studies and other activities related to regular church life. Also pastoral salaries are very low which is very discouraging for new prospective devoted Christian to enter ministry. The church owns modest buildings, which also need to be maintained, which is mostly done by volunteers from the congregations. The funds provided through this advance are therefore used for the purposes stated above, related to growth and development of the UMC in Slovakia.
How will this Advance project help to address the need?
Promoting 50/50 In Mission Together partnerships between U.S. and Slovakia UMCs, for mutual support in sharing of spiritual gifts such as prayer and Bible study, exchange visits for sharing of culture and customs, resources, and so forth.
Describe the primary goal of the project
To enable partner churches to serve together in mission and in this way help the church development and growth. The funds from IMT are used primarily to reach out to unchurched. While working together in mission both U.S. and Slovak church members practice their faith and the calling to go to the ends of the Earth. The partners typically agree to be in partnership for a period of 3 years which can and often is extended when relationships are built. The ultimate goal is for the Slovak congregations to come to self-sustainability which can be achieved when the church grows in numbers and people give their time and resources.
Contact Information