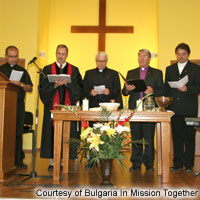 Project Information
Supporting the church through leadership training, church planting and outreach to the marginalized.
Describe the need affecting community
The UMC in Bulgaria walked a long road, but it is far from finish. During the time after the change of the Communist government great work was done, but there is a lot more to be done too. A lot of things has changed and people have changed too. Our mission is to reach the unreached and to accept the unacceptable. Being part of a global mission is another way to do what we are called to do. The need is all around us and it is hard not to see it. This project has the opportunity to help great number of people and to help them grow in their life and in their faith.
How will this Advance project help to address the need?
The UMC in Bulgaria has more than 150 years of history behind it. As a minority denomination, the UMC in Bulgaria has often struggled for its survival. By 1989, only three of the original sixteen local churches had survived the Communist regime. But the Church was again structurally organized and filled with life. At the center of this growth process, the founding of new churches exists side by side with the consolidation and stabilization of the existing ones. Six ordained elders, two of whom are retired, as well as many local pastors and lay workers, seek to spread the Gospel further. They serve 34 churches with approximately 2,700 members and friends. Many of these members are poor. Therefore projects connected to Church growth, such as theological education; church construction or renovation; a broader field of activity in the area of community social projects; expansion of work with children and young people; production and distribution of Christian literature; programs for prisoners and refugees, can't be supported in their entirety by the UMC in Bulgaria. The primary needs are financial sustainability (currently the Church is dependent on donations from abroad, mainly from Switzerland), leadership development, and construction of suitable church infrastructure for newly established congregations and further development of the ministry among ethnic minorities (mainly Roma). The activities of six local congregations and the Pastors Salaries' Fund were supported.
Describe the primary goal of the project
1) Development of self-sustainability by reaching new people. 2) Development of committed and skilled spiritual leaders. 3) Development of a helpful church infrastructure. 4) Development of social – diaconal outreach ministries and ministries among ethnic minorities. We all hope that during the next quadrennium these goals will be achieved and there will be visible and measurable result.
Contact Information
Global Ministries Contact